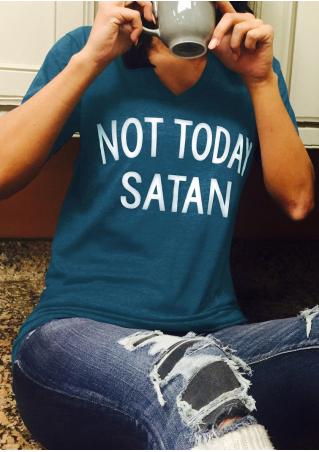 I must have been saying this quite often, because a friend bought me a t-shirt.
And it does play well on a t-shirt. It's bold. It's brief.
I was so excited to wear it that I changed into it right away and wore it proudly around the church office. I engaged in a few conversations about how such a statement made us feel empowered as warrior princesses in the Kingdom.
On my way home from the office, I had to stop off at the Mall to pick up some skinny jeans my son had ordered at one of those overpriced-young-folks-jean-stores. I paused in the car, wondering if it was okay for me to step out in public with my t-shirt showing.
Added to my dilemma was the fact that is was a blistering hot and humid July day. Yep, I pulled on my cardigan sweater and buttoned it over my boldness.
Because I wasn't exactly sure what I am saying to the world when I wear it.
I hope I'm aligning with Jesus when I stand up to our Enemy, the Devil. So, I got out my concordance and big study Bible for a little digging.
Actually, Jesus proclaimed, essentially, the same thing twice in scripture:
First, during His temptation in the wilderness when Satan offered independence (stones to bread) and indulgence (spectacular rescue by angels) and finally idolatry . . .
Matthew 4:8-10
8 Next the devil took him to the peak of a very high mountain and showed him all the kingdoms of the world and their glory. 9 "I will give it all to you," he said, "if you will kneel down and worship me."
10 "Get out of here, Satan," Jesus told him. "For the Scriptures say,
'You must worship the Lord your God and serve only him.'"
Another time was when Peter aligned himself with Satan's plan . . .
Matthew 16:21-23
21 From then on Jesus began to tell his disciples plainly that it was necessary for him to go to Jerusalem, and that he would suffer many terrible things at the hands of the elders, the leading priests, and the teachers of religious law. He would be killed, but on the third day he would be raised from the dead.
22 But Peter took him aside and began to reprimand him for saying such things. "Heaven forbid, Lord," he said. "This will never happen to you!"
23 Jesus turned to Peter and said, "Get away from me, Satan! You are a dangerous trap to me. You are seeing things merely from a human point of view, not from God's."
Wow – that's a pretty stern rebuke for Peter, especially since it follows on the heels of  Jesus naming him the rock of the new church and blessing his ministry. (Matthew 16:17-19)
It's sobering to realize that even Peter, standing in front of Jesus, could be so deceived. Because what chance do I have in my corner of the world – even when I'm wearing my bold t-shirt?
Satan works passionately to drown a believer's testimony. It's his one aim to devour. He is experienced, resourceful, and leads a host of demons to assist him.
But here's the deal. . . . Because Jesus kept His word and followed the will of the Father, crying out from the Cross – "It is finished," we get to share in that victory.
1 John 5:4-5
4 For every child of God defeats this evil world, and we achieve this victory through our faith. 5 And who can win this battle against the world? Only those who believe that Jesus is the Son of God.
Just maybe the resounding echo of "it is finished," is our response, NOT TODAY SATAN.
I hope Satan is more concerned with my actions than he is about what my shirt says.
I hope my faith is strong on good days and bad days . . . that I can cry out to Jesus, singing my soul into His presence and standing on the promise in the battle.
I invite you to listen to this bold song with me: